A 500-year-old painting believed to be by Leonardo da Vinci sold for US$450.3 million (S$611.2m) in NY on Wednesday, a world record, Christie's said.
First recorded in the private collection of King Charles I, the work was auctioned in 1763 before vanishing until 1900, by which time Christ's face and hair had been painted over - once a "quite common" practice, according to Mr Alan Wintermute, Christie's senior specialist for Old Master paintings.
The winning bid for the piece, titled "Salvator Mundi" ("Savior of the World"), was four times Christie's pre-sale estimate and smashed the world record for the most expensive painting ever sold at auction.
The 500-year-old painting, which depicts Jesus Christ, was sold after a 19-minute bidding war, which started at AUD $130 million.
After being restored and authenticated, it was bought in 2015 by Dmitry Rybolovlev for $127.5 million, where he was lucky to turn a profit when sold for $450.3 million, beating the record held by the 2015 sale of Picasso's "Les Femmes d'Alger" for $179.4 million.
Christie's experts said the painting's rarity was hard to overstate, calling it the "Holy Grail" for auction specialists. In fact, it was acquired for a figure much more public.
Many celebrities were present at its auction, including Leonardo DiCaprio, who is slated to play the Renaissance painter in an upcoming film by Paramount, singer Jennifer Lopez and singer-songwriter Patti Smith.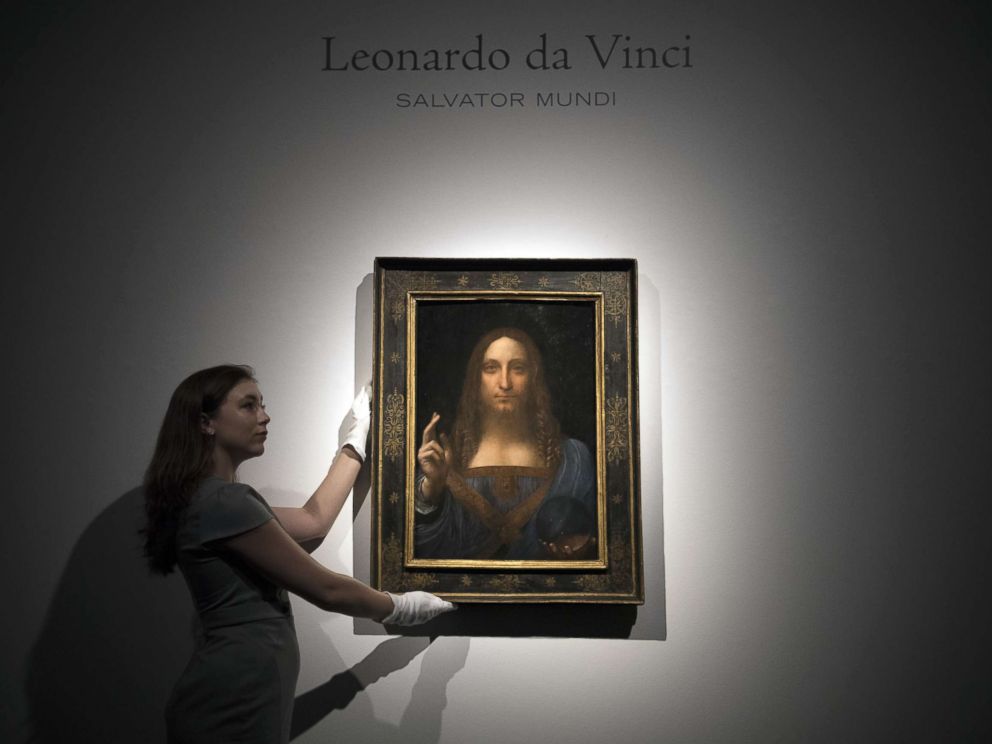 Carl Court Getty Images
The "excitement" for Leonardo's work has been "overwhelming". "It has been more than a century since the last such painting turned up and this opportunity will not come again in our lifetime".
Leonardo painted "Salvator Mundi" around the same time as the "Mona Lisa", and the two works of art "bear a patent compositional likeness", Gouzer said. At that time it was attributed to a Leonardo disciple, rather than to the master himself.
Christie's says it belonged to Charles I, after possibly being made for the French royal family and taken to England by Queen Henrietta Maria when she married the English monarch in 1625. Prior to that, it was consigned to a 1958 sale at Sotheby's where it sold for £45.
It was purchased at an estate auction in 2005 for $10,000 and then sold privately in 2013 for $80 million. Its rediscovery was followed by six years of painstaking research and inquiry to document its authenticity with the world's leading authorities on the works and career of da Vinci. Long-known to have existed, and long-sought after, it seemed just a tantalizingly unobtainable dream until now.
Francois de Poortere, Head of Old Master Paintings, added: "It is an honor to be entrusted with the sale of this mystical masterpiece".
The work was exhibited at The National Gallery in London in 2011, after years of research trying to document its authenticity after it was found, mistaken for a copy, in a United States auction in 2005.
"It's been called 'the male Mona Lisa, '" he said, "but it doesn't look like it at all". It was, said Cerutti, 'a great moment for Christie's and a great moment for the art market'.
More news: Canada's decision to decline TPP agreement shouldn't be surprising: Trudeau