We use cookies to give you the best experience on our website and bring you more relevant advertising.
Kenya's opposition chief Raila Odinga dramatic move to pull out of the October 26 presidential repeat polls, grabbed the attention of major dailies on Wednesday."What it means", screamed the headline of the Daily Nation which reported that the dramatic withdrawal of National Super Alliance (Nasa) presidential candidate Raila Odinga from the fresh election slated for October 26 has triggered confusion and sent jitters across the country and beyond.
Odinga then surprised Kenyans by withdrawing from the fresh election, saying the electoral commission must be changed or the new vote risks having the same problems.
Despite the win on Ekuru's part, the IEBC has now announced that all 8 presidential aspirants who took part in the August 8 poll would be included on October 26.
"The Commission can not compel a candidate to participate in an election".
Mr Kenyatta said the October 26 election will go ahead despite Mr Odinga's withdrawal.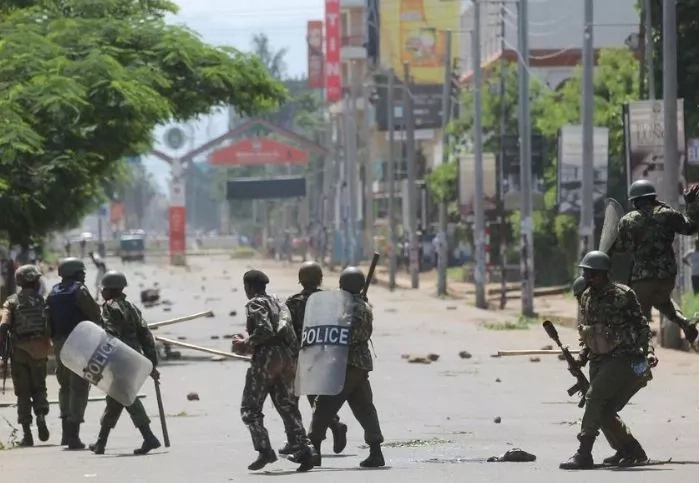 Police have been battling NASA protesters in parts of the country
Mr Odinga had called for countrywide protests to demand reforms to the commission ahead of the new election. "However, since all candidates who participated in the last election were entitled to run in the fresh presidential election, the Commission will comply with the direction to include the names of the other candidates by way of corrigenda." the statement went on.
The Supreme Court last month rejected the August election in which Kenyatta was declared the victor after Odinga challenged the results, saying hackers infiltrated the electoral commission's computer system to manipulate the vote.
Mr Kenyatta has said he does not want changes to the election commission.
The former Prime Minister said it is only through his withdrawal that the country will have a free and fair election as per the law.
Chief Justice David Maraga ordered the results of that poll "null and void" and claimed that the IEBC had "failed, neglected or refused to conduct the presidential election in a manner consistent with the dictates of the constitution".
More news: Red Sox Take The Win Over Astros In ALDS Game 3