The Prime Minister said, there are laws to protect the cows but taking law into hands is not acceptable.
The Prime Minister also underlined the belief of many Hindus that cow is like mother, but said that this should not let people take law in their own hands and every state government should act against violation of the law, Kumar said after the meeting.
The meeting began at 11 a.m., with leaders from political parties and Union Ministers Rajnath Singh, Arun Jaitley, Ananth Kumar, among others, being present. "State governments should take strict action against them [cow vigilantes]". It is also the first day of the over three-week monsoon session of Parliament. PM Modi also asked political parties to not give political color to incidents of violence related to protection of cows. He said that states should take strict action against anyone who breaks the law.
PM Modi also said that some political parties were painting the incidents in a communal manner and using them to gain political advantages, which does not benefit the nation.
A structured meeting within the Congress on the party's strategy in the coming session is slated on Monday, when the session is unlikely to transact much business due to the Presidential election.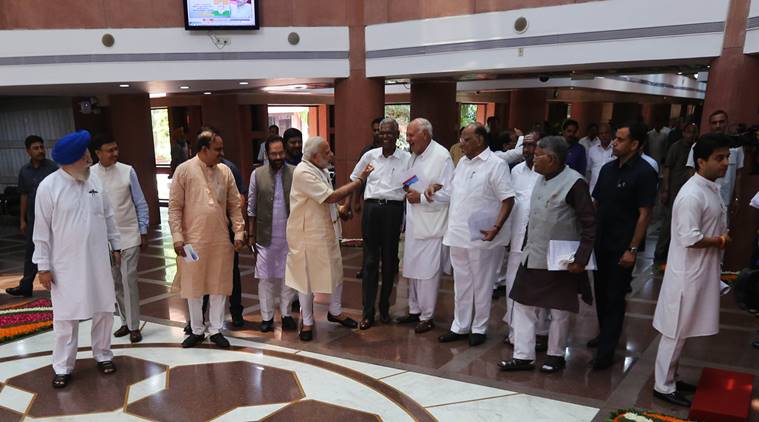 Indian premier calls for action against cow vigilantism
Attacks on people accused of beef eating or slaughtering cows have raised concerns as the targets of such violence have been minorities and Dalits.
Kumar said Modi also noted that the 75th anniversary of the Quit India movement falls on August 9 and all parties should celebrate it. He also thanked everyone for the implementation of the GST, calling it a "shining example of co-operative federalism".
Without mentioning India's military standoff with China, the Prime Minister asserted that all political parties stood united to ensure the "nation's safety and security after such concerns were raised by many leaders on recent developments". This meeting was held in a bid to seek the Opposition's support for the smooth conduct of proceedings.
Modi's comments at an all party meeting came at a time when investigating agencies were probing graft allegations against leaders of the Trinamool Congress and RJD.
Besides all party meetings convened by the Government and Lok Sabha Speaker, Leaders of ruling NDA will meet this evening to chalk out their strategy in Parliament. TMC has already announced it would boycott this meeting amidst recriminations between it and the BJP over the recent violence in West Bengal.
More news: House fire kills 22 in China, one arrested